LATEST NEWS - DECEMBER 2021
Covid has created a lot of global challenges.
Supply Chains have been placed under enormous pressure and supply and delivery of critical products including Variable Speed Drives has been severely impacted.
AET can help you navigate the supply chain shortages and delivery delays by keeping your installed Drives and Starters fully maintained and operating.
We can do emergency repairs to get your equipment working or we can quickly help you out with change-over refurbished equipment, that we carry in our stores.
AET can also "tune up" your drives and processes to ensure your installed equipment is working efficiently. A poorly set up Drive will use more energy and undermine the performance of your process. A poorly set up Drive can also fail prematurely.
NEWS - FEBRUARY 2020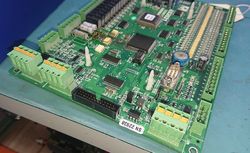 AET don't just repair Drives and Starters.
We were recently asked to help repair a Lift Controller.
The Controller was brought to us, we replaced failed components and the occupants of the building were saved from the joyous delights of climbing many flights of stairs each day.
NEWS - NOVEMBER 2019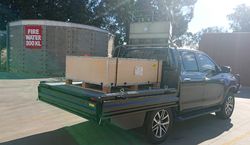 630KW Drive delivered to site
AET have recently helped a number of sites with major breakdowns.
A large Dairy Manufacturer needed a 630 KW Drive for an emergency breakdown.
AET had a replacement on site within hours and an impressive team effort on site, working through the night, had the process up and running in record time, minimising plant downtime and product loss.
At the other end of the scale, a manufacturer in the Latrobe Valley urgently needed a 5.5 KW Drive, on a Sunday afternoon. AET jumped into action, collected a spare drive from the workshop and had it on site within a couple of hours, enabling them to continue their business.
NEWS - AUGUST 2019
August marks 10 years of service for Stuart.
We are pleased to have shared the journey and look forward to many more years to come.
We wish Stuart all the best and hopefully a bit of relaxing long service leave.
VIEWS - JUNE 2019
Do you know about motor bearing etching (sometimes called EDM) and Variable Speed Drives ?
This can be a big problem. Talk to AET if you are planning to install a new Drive or replace an old one.
We can give you guidance and advise how you can reduce the potential for very costly problems.
VIEWS - APRIL 2019
How long should an AC Drive last ?
This depends on a number of factors but generally comes down to how well the drive has been setup, looked after and the conditions it has to work in. The following list covers important aspects for ensuring a long Drive lifespan.
1: Keep the Drive clean and free of dust, moisture and other contaminants.
2: Ensure the Drive is set up correctly - Limits, Ramp Rates, Protections.
3: Avoid over-loading the Drive.
4: Ensure the ambient temperature where the Drive resides is within specified limits.
5: Avoid locations where the Drive may be subjected to vibration or impact.
6: Ensure the mains supply to the Drive is within specified limits and free of excessive harmonic distortion or corruption.
7: Maintain the Drive by regular inspection, cleaning and fan replacement.
VIEWS - MARCH 2019
If you are thinking about doing your Spring Cleaning, you may have unearthed old Drives, you'd forgotten about. Before you get all enthused and decide to power them up, take heed of the following !
Old or stored Drives can suffer a deterioration of their Electrolytic DC Bus Capacitors. If you apply mains voltage - they may go BANG !
Contact AET - we may be able to help by REFORMING the DC Bus Capacitors using our purpose built power supplies. With AET, you get less Bang for your buck !